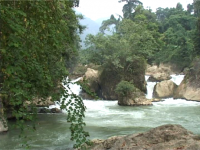 More stop on the way to visit diferrent ethnic minority village.* Visit the Museum of Vietnam Ethnic Minority Group in Thai Nguyen province.Notes: Bring passports, good shoes; sunscreen; cap/hat; and insect repellent
3 DAY BA BE LAKE
Ba Be lake- the largest natural lake in Vietnam- is also a part of Ba Be National Park. The scenery here is breathtaking with towering limestone mountains peaking at 1554m, plunging valleys, dense evergreen forest, waterfalls, caves and, of course, the lakes themselves. Over a hundred species of freshwater fish inhabit the lake. Two of the lakes are separated by a 100m-wide strip of water called Be Kam, sandwiched between high walls of chalk rock.
DAY 1: HANOI – BA BE LAKE (L,D)
* Head north towards Ba Be Lake from early morning. This drive of 270 km , which will take approximately
7 hours, takes us through the flatlands of the Red River Delta and up into the north mountain areas. The scenery on the way promises to be picturesque. Arrive in Ba Be town by mid afternoon. Overnight in hotel.
DAY 2: FULL DAY IN BA BE LAKE (B,L,D)
* Have a boat trip along the Nang River and around the lake – keep an eye out for kingfishers and raptors.
* Pass through a mountain by going in a tunnel-like Hang Puong (Puong Cave), which is about 40m high and 300m long. As many as 7000 bats (belonging to 18 species) are said to live in this cave.
* Further stop will be the pretty village of Tay people of Cam Ha.
* Continue by visit Dau Dang waterfall consists of a series of spectacular cascades between sheer walls of rock.
DAY 3: MOVE BACK TO HANOI (B,L)
* More stop on the way to visit diferrent ethnic minority village.
* Visit the Museum of Vietnam Ethnic Minority Group in Thai Nguyen province.
Notes: Bring passports, good shoes; sunscreen; cap/hat; and insect repellent.
| | | | | | |
| --- | --- | --- | --- | --- | --- |
| Pax | 1 | 2 | 3-5 | 6-9 | Over 10 |
| Price | | | | | |
Rates vary frequently. Please contact us to get the best possible price based
upon your travel period and specific touring needs.
Copyright © 2004 Queen Travel Hanoi: 65 Hang Bac, District Hoan Kiem - Phone: (+84 ) 24.38260.860 - (+84) 24.38260.300 - Voyage Vietnam