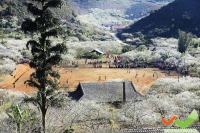 Moc Chau has long been famous for the white flower field improvements, the tea plantation or forest gush of white plum blossom and also one of the attractions people dissipated attract tourists at home and abroad.
Moc Chau in Son La province, lies 180 km away from Hanoi, on Highway No. 6 to Son La, Dien Bien. The best time to travel around Moc Chau Tet (February calendar) is seasonal peach, plum flowers blooming around the streets so ubiquitous at this plateau is also the scenic vistas and romantic .
In the spring, the Moc Chau is flooded in white plum blossom color, cherry blossom pink and wealth. You can stop at any public gardens caught on road
Bung plum blossoming flower white

As the sun began to warm up on the plateau and the hills of tea, it's time plum branches, twigs apricots white flowers sprung racing. Right to Moc Chau on sunny days you feel all the beauty of the flower-covered canopy lit plum under the blue sky.
Plums scattered across the plateau and most towns in the path from the gate leading to Sap borders Laos. Here, you'll find yourself looking at the hills planted flowering plum full white young green hues. Beautiful plum flower not only looks delicate, pure but also by having bloom, flower massively inflate. The plum trees were blooming like flowers, small plum flowers spindly twigs covered like gorgeous shawl.
Some early blooming plum tree has fruit.

Plum blossom in the period not long, lasting from 2 to 3 weeks, so if you want to admire the beauty of this flower, you should plan to travel Moc Chau in the first days of February next.
Families in

Moc Chau

national flags

on

the front

plum

tree

.



Where many of

the most

plum

blossom

in

Moc Chau

is

an area

of pine forest

and

uplink

of Ang

Sap border gate

, the center of

Moc Chau

town

about 30

km

.
A bright smile

of

children

in

Moc Chau




Come to

companies

Tourism

Thang

Long

subscription

Moc Chau

tour

to

visit the

beauty

of

the hills

white

plum

-

attraction

to

Moc Chau

on

New Year's time

.
Copyright © 2004 Queen Travel Hanoi: 65 Hang Bac, District Hoan Kiem - Phone: (+84 ) 24.38260.860 - (+84) 24.38260.300 - Voyage Vietnam