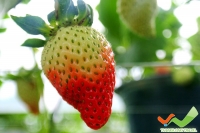 Dalat is famous strawberry so delicious, sweet and beautiful; red ripe berries each phosphorus in the freezing air.
Strawberries (scientific name: Fragaria), also known as strawberry is a genus of flowering plants and species of flowering plants in the family rose (Rosaceae) for fruit is widely favored. Strawberries originate from the Americas and the European gardeners for breeding in the 18th century to make strawberry varieties widely grown today. This species (Weston) Duchesne science first described in 1788.
Da Lat welcomes you any time of the year with a cool air of the plateau. Perhaps it is by ideal temperature conditions have made these flowers, fruit trees beautiful city. This summer, invite you to Dalat enjoy strawberries.

Summer sun and wind caused many people to think about sea travel to hot summer heat attack. The tour to island waters as Coto, Quan Lan Ly Son or those waters as Sam Son, Cua Lo ... the tourists' movement ". Where summer sailing only, to the cool highlands as Moc Chau or rather Lam Dong to have many new experiences.
This summer, traveling Dalat you'll see the name of the farm was put into a Biofresh in five new destinations of the city in 2014. It is the "common house" of strawberries flushed plump but you will want to eat even when they see them.
The farm is located in the resort Biofresh Sighs very dreamy lake of Dalat plateau with an initial area of 1 hectare, and after several months has widened to more than 3ha. Strawberries are grown here are always assured of food safety and do not use chemicals or pesticides.
Strawberry Dalat is famous alms flower city, but many people are now quite wary about the safety of strawberries for fear of pesticides. Farm Biofresh clean strawberry growers as a way to improve the negative thoughts of the visitors. Go with strawberry garden you will see the stage craft of strawberry cultivation and care combined with modern technology to reach European standards, and found the plump berries ripe freshness that you can participate in harvesting right in vuon.Den with Dalat tour to visit and learn about caring for strawberries, here you can be assured of enjoying fresh strawberries all four seasons.
Copyright © 2004 Queen Travel Hanoi: 65 Hang Bac, District Hoan Kiem - Phone: (+84 ) 24.38260.860 - (+84) 24.38260.300 - Voyage Vietnam