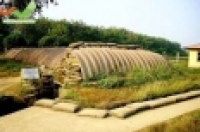 Although the war has receded but the traces of war are still there and with who had a travel time and a chance to Con Dao Con Dao prison visit today was not from Aaron creepy feeling, chills hell on earth with every year.
Phu Hai prisons - prisons were built from 1862 through the first several changes of name to still retain remnants completely original traumatic time. More than 12,000 m2 large cell 10, 20 in solitary stone cellar, 1 special cell, stewed rice mill and the stone dam. At its peak, the big cell detained hundreds of soldiers to communism. They were shackled, chained, starved and tortured in various forms in extremely barbaric.
Cell No. 6 was reconstructed with the model illustrated hundreds of soldiers shackled also where ever detained, tortured many revolutionary press.
Meanwhile, the 20 quarries in solitary confinement with built solidly remains completely original sense of smell chills past with fetters, shackles and all verses of the soldiers Huynh Van Chan (hometown of Soc Trang
) when he was brought here Date 14/12/1958.


Revolutionaries undergoing many hardships


Despite hardships but still despise


Perseverance firm stance


Overcoming difficult time on the road glory


Female solitary confinement of prisoners


Many will be surprised to see the entire area of ​​Phu Hai prison also auditorium, church, clinic, cafeteria area, kitchen fully equipped.
However, no one will take the prisoners and soldiers that privilege by all of them were set up to cover the eye and deal with supervised group of international human rights and mislead public opinion.
Feeling greater horror when visiting Phu Tuong prison where "French tiger cages" fame. Built in 1940, with more than 5,000 m2 area consists of 120 cells with iron bars on the top, 60 room "sun" without roof, this place is a hidden solitary confinement for 30 years. Only until 1970 when five students were arrested then released all the facts about this new detention unit is exposed to light the whole world shaken before war crimes.
Phu Tuong prisons where famous French tiger cages for layers of the entrance was barred, tangled barbed wire. 120 cell with iron bars and a very small area 1,45m width, length 2.5 m, above the walkway for guards. We let the tank water and lime on it. When prisoners thirsty, we flush down then sprinkle lime blind. Those who protest, the guards would use the long stick, from above crashed brutally tortured. Small room, there are dozens of people detained as well as living, sanitation, only shackled, starved.

But chills than to mention the room "solarium" with 60 cells, surrounded by stone walls and four barbed wires. The soldiers prisoner tortured brutally in various forms, stripped of clothing and oil endure long hours of sunshine, bitter bone, starved to death.
When to Con Dao today, when winds down past but the remnants of war remain a headache leads to feelings ..

Copyright © 2004 Queen Travel Hanoi: 65 Hang Bac, District Hoan Kiem - Phone: (+84 ) 24.38260.860 - (+84) 24.38260.300 - Voyage Vietnam