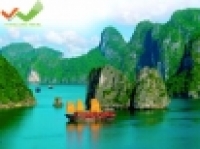 Halong Bay has magnificent views up here is a very attractive tourist destination with domestic travelers and international.
Ha Long Bay in Quang Ninh Province, located northeast of the country, with an area of about 1,969 islands 1.553km2 heaving create interesting landscape. The presence of the Gulf and the island on the Bay is a unique testament to the historical development of the earth, including geological characteristics and process of mobilization and continuous development of systems Fengcong Karst terrain types and Fengling.
Halong Bay -

a Unesco

repeatedly

been

recognized as the

natural heritage

of

the world, with

thousands of islands

to be

made

by

the creator

of spectacular

and

lively.

The World

Heritage

area

is

recognized as

an area of

434

km2

, including 775

islands

,

such as

a triangle

with

three

vertices

is the

island

Dau Go

(

west),

Ba Ham Lake

(

south)

and

Cong Tay Island

(

east)
Halong Bay is a unique heritage sites because it contains important remnants of the formation and development of Earth's history, the cradle of the ancient Vietnamese residents, as well as artwork great shaping of nature with the presence of thousands of rocky islands is multifaceted, with many interesting caves clustered into a vivid world has just mysterious. Besides, Halong Bay is also home to high biodiversity with typical eco-systems along with thousands of animal and plant species are abundant and diverse. It is also associated with cultural values - fascinating history of the nation.

With

Halong

Tourism

program

you will

have the opportunity

to visit

the islands in

Ha Long Bay

.

There are

two types of

limestone islands

and

schist

islands

, concentrated in

two

main

areas

was

the southeast

region

Bai Tu Long Bay

and

southwestern part

of Ha Long Bay

.

This is the

oldest

image

of

the terrain

with

tectonic

age

of 250 -

280 million

years

,

is the result of

the campaign

raised,

lowered

several times from the

sunken

continent

into

the sea

.

The process of

karst

erosion and

weathering

almost completely

Halong

create a

unique

world.
Hundreds of stone islands, each island carried a different shape very lively: First Person Hon, Hon Rong Vong Hon, Hon sail, Hon Trong Mai, Hon Lu Huong ... Implicit in the rocky islands he was magnificent caves associated with many miraculous legends as Thien Cung, Dau Go, Sung Sot ....
You had the opportunity to tour Ha Long - a unique heritage in the world to admire and discover the secrets still hidden this place?
Copyright © 2004 Queen Travel Hanoi: 65 Hang Bac, District Hoan Kiem - Phone: (+84 ) 24.38260.860 - (+84) 24.38260.300 - Voyage Vietnam