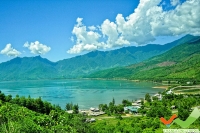 Lang Co Beach, 10 km long, tapered like back plate of a young woman lying on the sea catch each wave white fine sand washed ashore.
Hue Tourism immersed in Lang Co beach, blue, lies on a slope, stretching about 10km, from Lang Co Town, Phu Loc District, Thua Thien - Hue, close to National Highway 1A, near the Hai Van Pass. Lang romantic with white sand, blue sea, blue air of the mountains. This bay is the 30th member of the club "The most beautiful bays in the world" by 2009.
Lang Co - Hue is a popular beach with blue sea surrounded by mountains, which is a fishing village with many white storks flew gathered lands inhabited by Thua Thien Hue. In recent years, along with terrain located near Ecotourism Bach Ma National Park, Lang has become an attractive destination to combine the space relatively pristine mountain forests and the special typical noisy, bustling waters of many ships passing.

According to many experts on marine research, this is the most beautiful beaches in Vietnam. Lang Co Beach, 10 km long, tapered like back plate of a young woman lying on the sea catch each wave white fine sand washed ashore. Lang Co sea is hugged by mountains, forest and open up the eastern sky vast country. This is also the ideal place to grow many different kinds of entertainment such as diving, surfing, hiking.

From Lang, you can go sightseeing Chan Mo springs, streams Bald Orange Lake mining II ... where there are trees, rocks, pristine streams. And just how eco Resorts Bach Ma National Park than 30km, a pure virgin forests. Local people have a saying: "Up Young met Bach hero, into the sea meets the beautiful Lang" is so.

Blue sea water vast tropical forests, dark green and undulating peaks are not enough to describe Lang without mentioning Lap An extensive, full of mystery. When to visit Lang Co fishing village, hospitable people here would be willing to accompany you floating on Lap An lagoon for fishing. Thanks to the combination of mountain and sea, nature has created wetlands with a variety of seafood, brackish water fish, mussels, cockles, oysters ... In particular, in addition to shellfish squid, sea Lang also a rare commodity medicinal use as seahorses and abalone
In Lang Co is the famous resorts and high quality, such as Lang Co resort - Huong Giang, tourist capital of Lang Co resort, parks and resorts Thanh Tam Village Green. Currently, the authorities are conducting program evaluation Lang Co beach and Bach Ma National Park, proposed filing Lang Co beach club joined the world's most beautiful beaches. And here, Lang will not only famous for the beauty but also the lyrical poetic charm visitors by many attractive tours khac.Den Lang once for feeling overwhelmed by nature, scenery makes it stood stock still do not want to leave. Quick hands Hue book tours to visit the beauty of Lang Co beach yet you dear!
Copyright © 2004 Queen Travel Hanoi: 65 Hang Bac, District Hoan Kiem - Phone: (+84 ) 24.38260.860 - (+84) 24.38260.300 - Voyage Vietnam