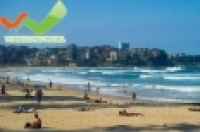 Manly is the starting point of a series of northern beaches of Sydney and go straight to the final point is Palm Beach.Manly Beach is one of the famous beach suburb of Australia along the coastal road north of Sydney. Manly Beach is Captain Arthur Phillip, the first governor of New South Wales in 1788 to name, because he was impressed with "confident demeanor and a man" of Aboriginal place. Located between Sydney Harbour beaches are quiet and well-known surfing beaches on the shores of the Pacific, relaxed nature of Manly Beach from a busy bustling Sydney seems different not a whole, although two This place just a short ferry ride.
Sydney Manly is a great beach for the whole family. From the beach in the harbor, Manly Corso with palm trees leads you to walk Steyne ramp, where a lot of surf shops selling everything from surfboards to the bikini.
Manly Beach iridescent golden sand of 1.5 kilometers with a sheltered swimming pool right in the first oceanfront beach. Queenscliff, located at the outermost point north of the beach is a great place to learn to surf as well as for those who surf had experienced. Many of the Australian surfing champion had learned to surf at Manly Beach. In the far south point, there is a roundabout through Club Surf Rescue Manly to Shelley Beach is well known for bikers and pedestrians as well as locals.
Supply romantic walkway around the coast of Manly drink at the harbor from Spit Bridge to Manly through Cape Dobroyd crossing bush wilderness and some stunning views of Sydney Harbour.
To go out the streets that you can spend 3 to 4 hours.


Reserve North Head is one of the hidden treasures of Sydney still.
Leisurely stroll along the streets through wasteland full of bushes and looking for animals and birds native.
Join the tour a guide to North Fort, an important military base since World War 2.


Located in Sydney Harbour National Park at North Head, Q Station's first quarantine station and the longest of Australia, which offers in-depth information about the region is quite interesting original settlers of Australia.


Oceanworld Manly to visit and learn about the local marine life.
Vung Penguin you can observe small herd of Manly penguins.
Museum and Art Gallery which showcases Manly is Manly's history and the northern beaches of Sydney.
The collection includes artifacts of swimwear, sunglasses, hats, towels, beach bags and surfboards from the 1900s until now.


Some other popular activities include beach volleyball, kayaking and scuba diving.
Manly also famous for its many restaurants and cafes along the beach delicious.
It also has a number of pubs and some live music.
On weekends, day flea market is where many of the items sold handmade arts, jewelry, photographs and sculptures inspired by lifestyle and local culture.
Copyright © 2004 Queen Travel Hanoi: 65 Hang Bac, District Hoan Kiem - Phone: (+84 ) 24.38260.860 - (+84) 24.38260.300 - Voyage Vietnam