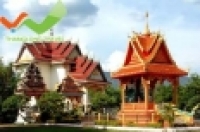 Laos has many attractive city for tourism as Vientiane, Luangprabang, Golden Triangle area ... who once to Pakse are unforgettable memories.
From Vientiane to Pakse about 700km, if traveling by plane takes more than one hour hours, while driving along the 13, with the speed of 100km / h takes about a day. Travelers want from Pakse to essential points as Bolovens plateau, Attapeu Province, about Gia Lai, Kon Tum (Vietnam) or want to go to Cambodia, it just went more left until the border 40km.
Since Laos Friendship Bridge - Japan because Japan built across the Mekong river travel is more about than 40km to Thailand, since it runs counter to the North via Nong Khai province of Thailand is back to Vientiane (Laos) . Due to the location especially attractive to tourists often choose this as the first destination of Pakse in their tours.

Besides road and aviation to Pakse also favorable. Lao Airlines has direct flights daily. Vietnam Airlines also offers direct flights from Hanoi, Ho. Ho Chi Minh City, Da Nang to Pakse. Currently, the province is expanding the airport Pakse phase 2 with $ 50 billion kip to receive larger aircraft to serve the rapid increase of passengers.

Along with favorable geographical position, this young city is also a tourist attraction, the economic attractiveness of Laos. It previously was the capital of Champasak Bounum monarch, the last king of Laos feudalism was canceled in 1946. Although more centuries passed but the anecdotes about the repressive reign of King Men Laos is still circulating among the people, especially the life of luxury with many supply frequency, but the king of female beauty to start from the villages and hamlets of service.

Accommodation kingdom of shadows down Bounum very poetic Mekong flows. Pakse ordinary people call home has 1,000 windows. Until now, this huge mansion almost intact and are being exploited city hotels and tourist attractions. Every time a business trip we stay here occasionally.

Along with Bounum whereabouts of many other attractive destinations such as Laos Friendship Bridge - Japan, Downtown Dao Vieng. Going over 40km away is the World Heritage Vat Phou ... Pakse is a land with many toxic daom festival attracts tourists as Wat Phou festival, Phase Veat, Khao Phansa ... In addition to the places to visit and also culinary Pakse very tasty, especially the fish and prawn dishes extremely attractive. Afternoon sitting in a restaurant on the river watching the sunset west extremely impressive.

Along with international tourists, for years, tourists Vietnam to Pakse also lots, estimated at 350,000 people / year. The localities of Vietnam, especially the Central Highlands provinces to strengthen cooperation with the southern provinces of Laos, which Pakse, in areas such as woodworking, producing sugar, fertilizer, planting perennial crops and support Vietnam Rubber Corporation - based in Pakse Laos focused on exploiting and processing rubber planned.

These days in Pakse impressed me most is the people Pakse, they were happy, enthusiastic, willing to help us when needed, especially they are helping unite Vietnam. Currently, the Vietnamese community in Pakse around 5,000 people have stable jobs, many have become well-known entrepreneurs like Le Thi Luong, Chairman Dao Huong Coffee famous throughout Laos.

These days in Pakse we like to live in his homeland, because there are many Vietnamese, Vietnam also has a restaurant, Vietnamese rice, Vietnam hotels, car washing as in Vietnam Vietnam has many attractive city for vay.Laos tourism as Vientiane, Luangprabang, Golden Triangle area ... who once to Pakse are unforgettable memories.

Copyright © 2004 Queen Travel Hanoi: 65 Hang Bac, District Hoan Kiem - Phone: (+84 ) 24.38260.860 - (+84) 24.38260.300 - Voyage Vietnam