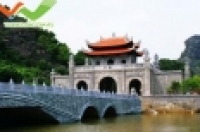 Dinh Tien Hoang temple relics of the ancient capital of Hoa Lu is located in Truong Yen Commune, Hoa Lu, Ninh Binh. The temple is located on an area of ​​about 2,500m2 of Van Bong village.
The temple is located in Truong Yen commune of Hoa Lu district 5ha on campus, is an important monument of the ruins. Temple facing east. In front of Ma Yen mountain temple is shaped like the saddle. On the mountain there is the tomb of King Dinh.
Legend of King Dinh Temple built on the main palace, leaning against the mountains Phi Van, the front is Ma Yen Son. Temple work in a "domestic, foreign". The outer layer is concerned Horse subjects (external ports) have 3 roofed space. Through a short pitch to the second layer is subject Nghi (ports) 3 iron wood construction time by 3 rows architectural plinth. Nghi four outer corners of the cabinet has built four courses high pillars.
Go all the directors, through two major pillars to the palace courtyard. Midfield dragon stone floor with a dragon around embossing, length 1.8 m (5.4 ft) wide by 1.4 m (4.2 ft). The two sides collapsed stone dragons flanking two children nghê, carved on two beautiful green rock monolith. Sculpture in the temple of King Dinh reached high levels. The theme expressed dragons, clouds, fairies wear Siamese velvet riding dragons.

From the Bai palace courtyard boarded the 5 time, unique architecture. Next to the Burning incense, architectural style spoon pipes, where four pillars church Dinh dynasty. Burning incense go off court visitors entering the supply 5 times. Statue of King Dinh nave been cast in bronze on the altar of green stone monolith.

Both sides have two dragon stone pedestals flanking the stone, carved-style saddle. Gian Dinh Phung statue right Lang (outside), Dinh Toan Empire (in) are facing the North, the middle child of two kings Dinh Tien Hoang. Gian Dinh Lien left statue facing the South was the eldest son of King Dinh Tien Hoang.
Dinh Tien Hoang temple is a unique architecture in wood carvings of folk artists Vietnam in the 17th century - the 19th King Dinh Temple is also unique art works with many rare artifacts protected N, like brick palace Vietnam national University engraved into specialized troops, columns carved Buddhist Sanskrit, all inscriptions ...

Copyright © 2004 Queen Travel Hanoi: 65 Hang Bac, District Hoan Kiem - Phone: (+84 ) 24.38260.860 - (+84) 24.38260.300 - Voyage Vietnam