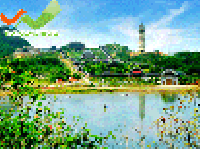 Ninh Binh travel before the opening of Congress and even during Tet, all action, Bai Dinh Pagoda Mountain offers incense smoke, the carnival atmosphere covered all low-lying countryside. As for the ceremony at Bai Dinh Pagoda relatively solemn place because here not only paint god worshiped gods, Buddha nest she lord thousand which is also linked to many important historical events of the nation with the virtue list Ly Quoc Su, Quang Trung, Dinh Bo Linh. Thus, the total air festival includes all religious belief systems in Vietnam; the cult of nature, Buddhist, Confucian and there is no Buddha.
Bai Dinh Pagoda new (neo-Bai) has an area measuring 700 hectares, including such items as internal gate, bell tower, temple Avalokitesvara Bodhisattva of Buddhist temples, electric Tam, hallway La Han jade wells. To phase 2, the Bai Dinh Pagoda will extend out 700 ha area, additional works: Bodhi 9 story tower, the Holy Mother, the ancient worship monks tomb tower, rising monastery houses, cottages guests, the Vietnam Buddhist museum, etc.
Temple architecture featuring large geometric shapes, monumental architectural imprints Vietnam, are used by many major materials in local bluestone Ninh Binh, quartet set of wood, ceramic tile Other Bat Trang ... most particularly in Bai Dinh pagoda architecture shown in dark brown dome shaped curved phoenix tail. Release Details page sexism architecture of the famous traditional villages in Vietnam. Bai Dinh Pagoda while building called "modern construction" with 500 artisan groups including many workers come from famous villages like Phu Loc carpentry, stone carving Ninh Van Cat Dang lacquer, bronze casting Y Yen, Nam Dinh Van Lam embroidery ... through the hands of artisans has created pure Vietnamese strokes in Bai Dinh pagoda architecture.

Hallway, 500 Arhat statues white stone monolith - each a different face workers are very finely carved, vivid. The precious wood blocks, horizontal image, couplets giant gilded, contributing to more monumental temple, brilliant.
The main power in Bai Dinh Pagoda where Buddhist shrine. Dien Quan includes 7 with electricity nave statue Bodhisattva Quan thousand eyes thousand hands to present the broad spectrum rescued and female Buddha sentient beings on earth. The statue was cast in bronze she weighs 80 tons, 9:57 m high statue was recognized as Avalokitesvara Bodhisattva largest bronze in Vietnam. Electricity France Owner 5 times, between set of Buddhist statues bronze 10m high and weighs 100 tons. Certified record "Shakyamuni statue Vietnam's largest copper". In the pending electricity 3 and 3-door horizontal image of Vietnam's largest hammock. Three Electric is located in the hills high above the sea is 76 m, 59.1 m long, 40 m wide. In set 3 electric Tam Tam The Buddha statue (past, present and future) copper 7.2 m high and weighs 50 tons. Confirmed the record: "The temple has the bronze statue The Three largest Vietnam".

Seen from afar, Bai Dinh Pagoda populations stand out amongst the majestic mountains. Sightseeing Ninh Binh, also provides an opportunity to discover the mountain Bai, Bai Dinh pagoda pilgrimage. This mountain has three caves, cave halfway up the mountain as Voi Phuc put his statue red face, rise further, to the right customers is the morning Voi Phuc many Buddhas and divine worship, the left is the church Ms. Chua Thuong Ngan Min . The caves here are also many equally beautiful stalactite caves in Ha Long.p.

Visitors to the festival Bai Dinh pagoda still feel love for nature in festival history from which water up toward the past. The pilgrimage was able to create in people the expectation, wish themselves to beauty.
Copyright © 2004 Queen Travel Hanoi: 65 Hang Bac, District Hoan Kiem - Phone: (+84 ) 24.38260.860 - (+84) 24.38260.300 - Voyage Vietnam