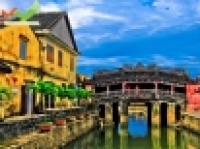 Hoi An, close to Da Nang city 30 kilometers southeast from the city of Tam Ky 60 km northeast. The architecture in the old town of Hoi An kept almost intact for more than a thousand architectural monuments such as streets, buildings, assembly halls, temples, pagodas, temples, churches, ethnic, ancient wells, ancient tomb .. . the architecture both traditional art shades of Vietnam, expressing the cultural exchanges with the integration of Eastern and Western countries.

Bridge

-

symbol

of

Hoi

An




Travel

to

Hoi An

,

you

will see

a

vivid picture

,

the

streets of

Hoi

An

is

covering

an

ancient

moss

color

.

The existence of

a metropolis

like

Hoi

An

is

a unique case

in

Vietnam

and

also

rare

in the world

.

This is regarded

as

a

living museum

of architecture

and

urban lifestyle

.
Afternoon in Hoi An
Researchers said the ancient architecture in Hoi An almost new remade from the early 19th century, although in the constructor can much older. Ancient architecture is most evident in the old town. Located wards full of Minh An, Hoi An area covering about 2km², focusing most famous relics in Hoi An. Street in the old town a short and narrow, highly curved, horizontal run along the checkerboard pattern. Topography Quarter inclined form gradually from north to south. The buildings in the old town is built mostly of traditional materials: brick, wood and no more than two floors. Guests recognizable traces of time not only in the architectural style of each work that was everywhere: on the roofs tiled roof covered with moss and vegetation; walls gray mold, old; the carving of a strange animal or describe a tale ... It would have attracted the talented artisans in carpentry, masonry, pottery of Chinese, Japanese, Vietnamese, Cham ... so that each works to re-mark in today are very diverse culture, rich of many nations.

Chaozhou Assembly Hall
Hoi An Tourism to feel the richness, diversity of the rich soul of Hoi An culture and traditional cuisine of the people here as like high floors, dumplings, cake nest, little cakes thorn ... from how life is still circulated today to four diners still have the chance to enjoy. Life has many changes over the years but Hoi An is not lost the things they are familiar, the cultural festival has since ancient times, everything, here are capital preservation honor ... A the festival was held on the evening of 14 monthly lunar and visitors while also everywhere to breathe clean air bearing deep tradition of Hoi An. nation.
Making lantern in Hoi An
Besides the cultural value through diverse architecture, Hoi An retains a cultural foundation intangible quite bulky. The daily lives of residents with the customs, religious activities, folk art, cultural festivities are being preserved and promoted with poetic landscape, the traditional villages, specialty foods ... make Hoi An increasingly becoming an attractive destination of tourists from everywhere.
Street in Hoi An
According to statistics, in Hoi An there are 1,360 relics and landscapes. These relics are classified into 11 types, including 1,068 ancient houses, 19 pagodas, 43 divine shrine, 23 families, 38 clan church, 5 assembly halls, 11 old wells, one bridge, 44 ancient tombs. In urban areas there are more than 1,100 ancient relics.
At the 23 th session from 29/11 to 04/12/1999 in Marrakesh (Morocco), Organization Culture - Science - Education United Nations (UNESCO) has named Hoi An in the list of Heritage World goods.
Come to Thang Long Travel company to be satisfied to discover the old town of Hoi An with the visit program, Hoi An tourism attractions.
Copyright © 2004 Queen Travel Hanoi: 65 Hang Bac, District Hoan Kiem - Phone: (+84 ) 24.38260.860 - (+84) 24.38260.300 - Voyage Vietnam