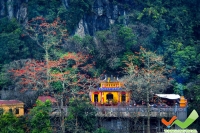 Every year, tourists from everywhere to get together for the Perfume Pagoda Festival, just to worship, pray, just admire the beautiful water garden.
On each occasion early spring, tourist attractions bringing spiritual elements often attract huge number of tourists. Perfume Pagoda Festival - Hanoi is also home to welcome more than 1 million visitors each occasion of Assembly.
Perfume Pagoda starting January 6th, located in Huong Son Commune, My Duc district, Ha Noi. To go to church, you'll have to buy a ticket and sit there for an hour on the Yen Stream leading to the pagoda. Fares visit VND50,000, ferry fare is 35,000 VND (online Huong Tich).
Perfume Pagoda is an architectural complex in Valley Stream scattered Nest online so there are 2 main pilgrimage route and Huong Tich Himalaya route should you need to explore carefully before offline.
After purchasing tickets, guests will be guided into a boat parked in the terminal and started Dune journey Huong pagoda festival. Every day here to welcome thousands of visitors to go to Mass, the peak day can be up to 70,000 people.
Being the only waterway for visitors to worship at Perfume Pagoda, Yen Stream looks like the tail of a bird's nest are wide spread. From the first day of assembly to the end of March, the scenery is always crowded with passenger boat in the nuop nuop.
Before worshiping at the temple in, ie in the Huong Tich pagoda, tourists will visit Thien Tru Pagoda, Temple Besides news. Located between the sacred mountains, majestic beauty temple, ancient and pure space.
This year, the organizers firmly ensure security and order during the festive season by strictly handle acts like small change, unsettled guests, put money drops of oil, superstitious, superstition .. .

From Thien Tru Pagoda, along the winding mountain about 2 km away is the temple in. Along the way, visitors will encounter countless roadside shops spike sold gold, silver twigs, buds, the money ... for good luck.

There are two ways to climb the temple or in the cable car. Price slings a turn is 90,000 dong (adults) and 60,000 (children). Entrance leading to the temple within them longer than 100 stone steps. From on high, travelers can feel the cool air blown out from within them.

Also statue of Ba Chua Ba, an emanation of the Bodhisattva Avalokitesvara, the action still has many dunes emulsion known under the name: Dune Rice, Tree Gold, Silver Tree, Trough Pigs, Nong cocoons, punctuation, myalgia ...
Many travelers tried to catch drops of water from stone with that notion buds desire for heaven and health in years.
Do not be afraid to pick up a call on the company's operating room Tourism queentravel.vn for advice free, quick and accurate according to your requirements.
Copyright © 2004 Queen Travel Hanoi: 65 Hang Bac, District Hoan Kiem - Phone: (+84 ) 24.38260.860 - (+84) 24.38260.300 - Voyage Vietnam