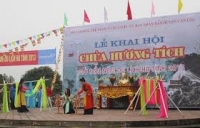 Perfume Pagoda is a striking complex of pagodas and Buddhist shrines built into the karst cliffs of Huong Tich Mountain ( Mountain of the Fragant Traces). Among the better-known sites here are Thien Tru
A DAY PERFUME PAGODA
Perfume Pagoda is a striking complex of pagodas and Buddhist shrines built into the karst cliffs of Huong Tich Mountain ( Mountain of the Fragant Traces). Among the better-known sites here are Thien Tru (Pagoda Leading to Heaven); Giai Oan (Purgatorial Pagoda), where the faithful believe deities purity souls, cure sufferings and grant offspring to childless families; and Huong Tich ( Pagoda of the Perfumed Vestige).
8.00 – 8.30:
* Our car will pick you up at your hotel. After 65 km to the Southwest of Hanoi, you will reach this most famous pilgrimage site.
10.30: Reach Duc habour, getting on the rowing boat:
* We have an hour to enjoy marvelous scenery along the Yen River which surrounded by dramatic limestone cliffs, as well as the historical grandeur of the pagoda complex such as Trinh Temple ( Registration Shrine ).
* Trekking up ( one hour ) or go by cable car to Huong Tich Mountain to visit the main cave (inner cave) that located inside the cave with the same name. Enjoying the art of nature-made here.
* Going down to visit Thien Tru ( Heaven's Kitchen-the name shows its meaning: the pagoda is located under the constellation of eating and drinking ) pagoda which is at the bottom of the mountain also called outer pagoda.
Lunch will be served at one of the best food stalls near Thien Tru Pagoda.
16.00: Enjoy picturesque countryside on the way back to Hanoi. Arrive at Hanoi at 18.00
Notes:Bring sunscreen; good shoes; cap/hat and insect repellent.
Dress modestly and respectfully once visiting pagoda
| | | | | | |
| --- | --- | --- | --- | --- | --- |
| Pax | 1 | 2 | 3-5 | 6-9 | Over 10 |
| Price | 132 | 83 | 62 | 43 | 35 |
Costs include: Transportation, English speaking guide, entrance fees, and lunch, boat trip, 1 way cable car
Costs exclude: Drinks, personal expenses, insurance, and tip.
Rates vary frequently. Please contact us to get the best possible price based
upon your travel period and specific touring needs.
Copyright © 2004 Queen Travel Hanoi: 65 Hang Bac, District Hoan Kiem - Phone: (+84 ) 24.38260.860 - (+84) 24.38260.300 - Voyage Vietnam