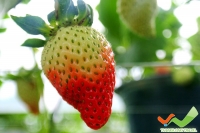 Dalat is famous strawberry so delicious, sweet and beautiful; red ripe berries each phosphorus in the freezing air.Strawberries (scientific name: Fragaria), also known as strawberry is a genus of flowering plants and species of flowering plants in the family rose (Rosaceae) for fruit is widely favored. Strawberries originate from the Americas and the European gardeners for breeding in the 18th century to make strawberry varieties widely grown today. This species (Weston) Duchesne science first described in 1788.
Xem chi tiết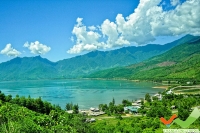 Lang Co Beach, 10 km long, tapered like back plate of a young woman lying on the sea catch each wave white fine sand washed ashore.Hue Tourism immersed in Lang Co beach, blue, lies on a slope, stretching about 10km, from Lang Co Town, Phu Loc District, Thua Thien - Hue, close to National Highway 1A, near the Hai Van Pass. Lang romantic with white sand, blue sea, blue air of the mountains. This bay is the 30th member of the club "The most beautiful bays in the world" by 2009.
Xem chi tiết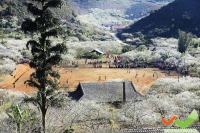 Moc Chau has long been famous for the white flower field improvements, the tea plantation or forest gush of white plum blossom and also one of the attractions people dissipated attract tourists at home and abroad.Moc Chau in Son La province, lies 180 km away from Hanoi, on Highway No. 6 to Son La, Dien Bien. The best time to travel around Moc Chau Tet (February calendar) is seasonal peach, plum flowers blooming around the streets so ubiquitous at this plateau is also the scenic vistas and romantic .
Xem chi tiết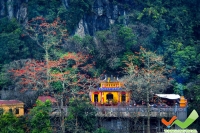 Every year, tourists from everywhere to get together for the Perfume Pagoda Festival, just to worship, pray, just admire the beautiful water garden.On each occasion early spring, tourist attractions bringing spiritual elements often attract huge number of tourists. Perfume Pagoda Festival - Hanoi is also home to welcome more than 1 million visitors each occasion of Assembly.
Xem chi tiết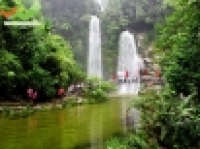 Fairy Falls called for under foot waterfall cascade wind always blowing very strong wind, bringing light fog hovering over the surrounding space.Ha Giang travel we can not ignore the Fairy Falls Gorge scenic area Wind, located in Lam Ngam village, Nam Dan commune, Xin Man district. Pass Wind Fairy Falls from Xin Man district about 18 km to the southeast, from Highway 178 approximately 120 m.
Xem chi tiết
Copyright © 2004 Queen Travel Hanoi: 65 Hang Bac, District Hoan Kiem - Phone: (+84 ) 24.38260.860 - (+84) 24.38260.300 - Voyage Vietnam