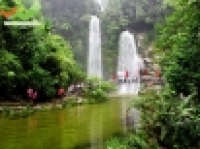 Fairy Falls called for under foot waterfall cascade wind always blowing very strong wind, bringing light fog hovering over the surrounding space.
Ha Giang travel we can not ignore the Fairy Falls Gorge scenic area Wind, located in Lam Ngam village, Nam Dan commune, Xin Man district. Pass Wind Fairy Falls from Xin Man district about 18 km to the southeast, from Highway 178 approximately 120 m.
Fairy Falls double waterfall, the water of the falls is the left bank of the stream derived from Ta Cu Ty, Bac Ha, Lao Cai at elevations above 1.403m compared to sea level. Ta Ngan streams flow through nine villages, communes in Xin Man with 45km length. Lam hamlet to Ngam, from 70m high on a cliff stream flow in Wind Gap created two large parallel cascade, falling water area near the waterfall at the foot of 130m2.
The entire mountain is Wind Gap native forests have a total area of ​​3,947 ha natural.
Waterfall streams create wind Deo Tien Ta named Linger, are derived from limestone mountains of Ta Cu Ratio (Bac Ha - Lao Cai).
Area around the falls is a great green forests interspersed with thousands of ancient trees hundreds of years old and a rich vegetation.
Currently here exist some over 500 years old acorn.
First Pass wind falls within the area of ​​primary forest. It has a rich flora and fauna and biodiversity, the species composition as well as the number of individuals with great value in the research, understanding of the biology, geology , meteorology. At the same time, with quite thick vegetation, many primeval forests growing on limestone hills and mountain land. It was also the area of ​​watershed protection forests, valuable and economic significance - a huge social, regional role is to regulate and distribute water to the valleys of the region to develop agriculture Industry.
On weekends or holidays, people often hanging around relatives and friends to picnic here, have fun, enjoy the magnificent unspoiled nature and fresh air to the mind relaxed, forget the fatigue , sorrow. Groups, families often bring chicken, grilled pork to eat with rice, sticky or go for cement, forest vegetables for further processing. Fruits are washed under the stream and dipped in cold spring water, eating fresh cool feeling like just put in the refrigerator.

Currently it has already planned a stopover for tourists to visit and explore the great primeval forest of thousands. Tourist areas and explore Pass Resort Wind - operators also said it is built with a traditional stilt house, car park operators and system to small guesthouses.
With the available potential that nature has generously endowed, Fairy Falls Gorge Wind was, is and will be the eco-tourism, cultural tourism attracts tourists at home and abroad. In 2009, Waterfall Fairy - Pass Wind is the Ministry of Culture, Sport and Tourism won the national ranking list.
Copyright © 2004 Queen Travel Hanoi: 65 Hang Bac, District Hoan Kiem - Phone: (+84 ) 24.38260.860 - (+84) 24.38260.300 - Voyage Vietnam