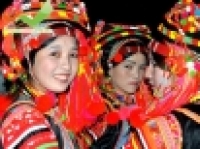 Ha Nhi people struggling in life but they do not forget to preserve the culture ingrained in your subconscious, which is the costume, because for them the costumes symbolizing the culture, the people own beauty their fathers
If you do or traveling northwest sure will be very impressed with the Ha Nhi living in Lai Chau districts mainly in Sin Ho and Phong Tho, Muong Te in addition to preserving the cultural identity of the wedding, the annual festivals, or school ca ca Away from home, the walls ... the art of decoration on women's dress remained distinct characteristics.
The beauty of Ha Nhi women in colorful costumes
Decorative patterns on dresses Hani ethnic minority women mostly scarlet colors, colorful highlights in vast green forest.
On the shirt, mostly girls Ha Nhi embroidered in the collar, back neck from about 5 cm at the shoulder, sleeve, chest and lap.
Collar embroidered with red embroidery mainly crossing.
Behind double dual embroidered comb-shaped turns, high mountains, low blue, red.
Part shoulders and sleeves embroidered with a small road only.
Red cloth folding finished sewing up the shoulder forming sleeve.
Nearly cuffs also embroidered with motifs like flowers embroidered on the shoulder.
Sugar frill hem dress with embroidered edge color of red, blue comb shape, it's low mountain alpine village setting Hanhi live.

Dresses Women Ha Nhi ethnic garment similar misconduct sawn modern coat of Kinh, before short dress and curved tail, after a longer dress and equal.
Austria is made up of 4 pieces of fabric sewn together transplantation also called ao tu than sawn deviant from the armpit down to the ankle.
Buttoning his shirt was designed under the right arm, each depending on size shirt wearer usually from 5-9 rows of daisies.
Stock image turtleneck shirt, folded hem at the armpit.

Austria's women Ha Nhi ethnic colorful and unique truth in the neck, chest hem with silver sticking daisies in the left chest down into triangles (hilly) ratings were down.
Two side from the shoulder down sleeve cuffs with silver chrysanthemum on 20 aircraft.
And daisies decorated with silver as beauty and respect for ethnic Ha Nhi women.
Ha Nhi women wear pants made from cotton, baggy pants, wide crotch

Along with clothes, coat the top of Hani woman also wore decorated with rattan horizontal boring (I Crossed advocated buzzing) with silver or aluminum snap buttoned line. According to the order, this rope is the first girl to wear, then the turban (buzzing advocated breaking pie) Hanhi called cowl top, wired across the bottom to set the chin, behind the neck to wide open. The bottom row of daisies two aluminum or silver, horizontal sides of the head fastener and two tassel ear dua made of thread colors, mainly pink and magenta. Strap is made of cotton fabric woven itself, with aluminum or silver studded beautiful daisies. Next is fringed dua wire rings either side.
Dua ring fringed strap made from colorful yarn, this round was above the square scarf fringed black 1 dua. Square scarf embroidered patterns fern pattern, form that saw, comb, tush, six angles are used only color fringing road, when worn behind the neck uncovered. Next Hani girl wearing 1 tassel scarf many dua top, to rewind excess dua either side, with aluminum or silver coin tied to beauty, the rear tail attached by the neck with beads.

Traditional costumes of Ha Nhi ethnic women include short coat (charge status) even outside, wear long clothing inside. Indigo fabric black slacks. In parallel with the clothes is the silver jewelry sewn together like short fitted coat buttoned 3 rows of silver or silver coin (GOVERNMENT) by 2-3 to snap your fingers in front of his chest. Antique silver rings (pó to), hand strap bracelet (strange universe). Areas turban (u PA) with ornate embroidery.
Meticulous in every detail, unique to each stroke pattern contrasts with the brilliant colors ... made the uniqueness of costumes Hani woman has been handed down the generations until today. You can refer to the tour company to book Thang Long Travel tour to visit and learn about the life of Hani in Laizhou

Copyright © 2004 Queen Travel Hanoi: 65 Hang Bac, District Hoan Kiem - Phone: (+84 ) 24.38260.860 - (+84) 24.38260.300 - Voyage Vietnam