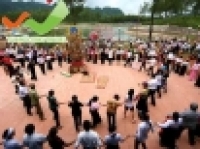 Moc Chau Plateau improve the flowering season
East Sang from Moc Chau town center about 5km, comprising 12 villages with ethnic Thai, Beijing, Mongolia ... every nation has its own traditional culture is best represented by this festival, of which no not to mention festivals Cha End of white Thai ethnic minority. Out Cha festival called "Kin gong BOAC grave", ie shaman eat and receive gifts during the holiday of adoption plated flower, three flowers
People danced at festivals Cha Out
Festival Of Cha consists of 2 parts: Ceremony and Society section. Part celebration is an occasion to pay tribute foster child with respect oracles have their medical treatment, expressed profound humanity. With these old stories are told and reconstructed by the people of performances, festival attendees will be taught as well as production experience to hear the chastisement for people to live together better. This is also a form of food festival farewell to spring to prepare to enter production in the new crop year to achieve good results. The highlight of the area as a humorous, witty way as boys girls, boys dress, making viewers laugh delight phen.

Thai girls in dance festivals spread in Out Chá
As he Xuyen and headmen in the telling, ancient, Thais are very poor, no money to buy medicines, often to ask oracles. The sorcerer has 3 system, system "Mo Ditch" the specialized offerings, offerings visualization needs good weather, peaceful villages, Contacts "Mo temple" devoted cozy hospitality joy, farewell to the deceased and us "Mo Mun" teacher offering treatment to all people and get them up for adoption after cured.
Tips used by witchdoctors to have medicinal cure the villagers, obliging oracles, many people would like his adoption. And then, every end of the year (at 29, 30 year), the children again to thank oracles, but this time for the New Year, are busy fixing oracles Thanksgiving will be held in March every year ... Festival of Cha from that city.
Festival Of Cha is sharp religious and cultural activities imbued with the characters of the Thai ethnic culture in Moc Chau, not fussy expensive. You can join the tour in Moc Chau - Sac spring on the plateau to the northwest highlands to explore the unique culture of the people here

Copyright © 2004 Queen Travel Hanoi: 65 Hang Bac, District Hoan Kiem - Phone: (+84 ) 24.38260.860 - (+84) 24.38260.300 - Voyage Vietnam