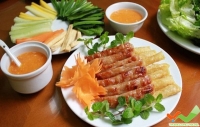 .Nem lui - one of the oldest specialty of the ancient capital, which visitors from afar to make silly. Ingredients to make a very simple dish nem lui: pork mixed with finely scanned packages, diced marinated pork fat with salt, pepper, sugar, hearing and using bamboo skewers, grilled lemongrass sugarcane or so that there such special status. Often, nem lui is eaten with rice paper, herbs, sour star fruit, green banana, fig ... shared with a delicious sauce made from peanuts, liver added pork, minced pork.


Nem lui want delicious food, you should visit Dong Ba market, or restaurant on Nguyen Thai Hoc, Nguyen Hue, Truong Dinh, Phan Boi Chau, Mai Thuc Loan ...
2. Cơm Hến
Folk dish, bring charming characteristic. Very spicy delicious mussel rice, spicy that makes strangers eat and watery nasal discharge. Fever mussel rice not cooled rice that is just normal stuff, but when combined with the smell of passionate procession, loving sweetness of water mussels, the fat in harmony with sour greaves of contract bar, soothing smell of herbs, banana corn, mint, spicy to tear the tongue, the mouth of chili burn ... it really makes it difficult to remove.
Mussels with rice all over Hue, from alley to the main street. But rice, mussels in asthma (in Huong Luu, Vy Da Ward), Hue city center is approximately 3km tastiest.

3. Bun Bo Hue
Bun bo Hue is one of the specialties of Hue. Bun Bo here have grown pellets made from raw pork and fresh sweet crab meat, fragrant draft; have been sliced beef medium, is spiced the pot before the disturbance; corn with sliced banana pieces, the basil stalks white; there are security patches soft nail jelly rolls. All combined with spicy broth, fat. When eaten, add a few stalks prices, raw vegetables, little lemon pepper fish, you will find extremely interesting with less profound in every cell of Hue to the tongue.
Bun Bo Hue tasty strip across the road from Nguyen Hue, Bach Dang Nguyen Du till ...
4. Shanghai Quartet favorite cake in Hue
Shanghai Quartet favorite in Hue pie is the specialty has captivates many tourists at home and abroad while traveling Hue. Cakes made from rice flour. Fillings made with shrimp, lean meat, fried mushrooms together. Cakes are often eaten with pleasure figs, banana and vegetables. Shanghai Quartet favorite trim delicious cake than other bars because of the secret mixture of part soups guest chu.Neu insufficient time to traveling all these places with Hue pie, just a taxi picks Thao Nhi village government in particular Residential District, Thuy Bang commune (on the way to visit the tomb of Khai Dinh), about 7 km from Hue City. There are all kinds of bread, bun as above, to meet customer demand.
5. Sour Shrimp
Sour Shrimp is the totality of the sticky white color, bamboo shoots, garlic, galangal, red shrimp, peppers ... and full of taste: sweet, fat, fleshy, spicy, sour, bitter ... It is the blending of the cool and spicy shrimp of spices. All create attractive dishes served with sour cuong.Tom hard boiled meat, cake and melon prices and other raw vegetables are unforgettable delicacies if ever eat through. The bitter sting of shrimp in the fresh air of meat, sour star fruit, crispy tart fig ... bring the appetite to eat very cung.O Hue sour shrimp delicious and most famous road Dang Tran Con.

Copyright © 2004 Queen Travel Hanoi: 65 Hang Bac, District Hoan Kiem - Phone: (+84 ) 24.38260.860 - (+84) 24.38260.300 - Voyage Vietnam