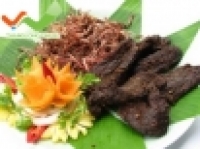 1. Ha Giang Au Tau Porridge - Congee is the drug as of Thi No
Arrive Ha Giang, you can enjoy all seasons Au Tau porridge. Folk said that good treatment porridge at night when we sleep, so the porridge in Ha Giang often crowded until late at night and special porridge sold only in the evening. Sitting in a small shop where hissing city with a pipe bowl of porridge hot early, fragrant, add a little wine lips soft corn delightful.

Au Tau porridge also picky and several stages, first pipe must be thoroughly soaked early roots in rice water overnight, bringing them security until soft, friable loosened. Then take rice (grown on upland rice), mix less sticky yellow flowers matched porridge. Then powdered tubers are cooked and rice early pipes and water security from pig pork leg within 3-4 hours. Scoop out a bowl, sprinkle with onion, pepper, coriander, egg and chopped up lean sirloin, aromatic flavor immediately. Porridge pipe dark brown larvae, eat a little bitterness, his throne, Bui Bui, if the first was a bit "coward" but edible once and again ... a little familiar. How much are you from bitter, fleshy, plastic bones to water security sweetness along with the scent of exotic feel and appeal.
2. Meat buffalo upstairs kitchen
Join Tourism Ha Giang for buffalo meat tasted like dry kitchen upstairs are made from meat of bovine animals in the plains, dry stone Ha Giang domain buffalo are processed with traditional ways, a unique cuisine .
When done, select the section is often delicious buffalo meat and then cut along the meat stringy long lead subtype, then smoked with the smoke of charcoal from the mountain rock. Finished with buffalo meat, the smell of smoke almost intact, yet not obtrusive. The meat is marinated in salt and ginger, chilli, pepper forest. Then infected meat on kitchen platform, smoked from wood forest trees. Guarding the kitchen for two months, the volume of black and smoky buffalo meat is dried, spices absorb everything inside. On the surface there are still forest pepper, chili pieces, ginger ..
How do such but simply dried buffalo are specialties of various peoples in this land. It is set on the rig dried buffalo preserved kitchen. Where to eat to get down to it and tore it down. Smoke renders long day for buffalo meat tasted especially but not annoying because the foul smoke.
The indigenous people used dried buffalo in the daily meals or trips perennial forest. In the rainy season, this dish effective by ensuring nutrients for ethnic people in isolated villages at the outside. Eat unfamiliar, the plains would have winced with spices spicy and salty dried up only nibbled by little. Best of dried buffalo nhấm with corn alcohol. Feeling salty, spicy will disappear but only harmonious taste of typical culinary domain Ha Giang stone.
3. Mosses grill
For years, stone moss only be regarded as a kind of aquatic effects. But for people in Xuan Giang Tay Ha Giang province, the stone moss are considered specialties of their cuisine. The food is made from moss rock called cinnamon. This is a delicious dish, and healthy, have very particular taste. According to local people, while seeking moss, they often choose the large moss park, because there just much moss, delicious. Fresh moss dam brought the jar thoroughly clean viscous silt, which can then be processed into many dishes.
Moss and streams, though many, but those are few and moss moss delicious seasonal edible, so for people here moss is a precious dish. Mosses can be processed into many dishes as fried moss, moss unique dry but is still mix with spices and then baking.
4. Dong Van Thang Co
Ha Giang tourism you will eat Thang Co, this is more common dishes of ethnic minorities in the northern mountainous province, every region, every nation has the processing and various spices pans trying to win his nation's traditional, but basically have the same features. The main ingredients for the wok is trying to win the entire organ (continental government, organs), bones of cattle, horses or goats brought to all through fire pan fried and then carefully pour the water into the security within hours, to While these are small adjustments ripe more fire.
Especially as very rarely do people try to win but only try to win pig cattle, horses, goats. Spices to try to win pan are also natural products in areas such as cardamom, lemon grass roots, seeds dổi, place, ready to eat, add chilli, pepper and of course indispensable corn liquor.
On market days Ha Giang, shops selling the winning try always focused compatriots crowded and busiest, each group of men and women gathered around a simple wooden table, chatting chatted, while alcohol was enough to do
concentration intoxicated people, it's time the small bazaar and the best fun, tu mi macho beings start sending sentiments in flute, voice ecstatic praise as how soul Highlander girls, cup
corn was enough to make her cheeks blushing girls ... had the mixed doubles so the husband and wife from the fair like this.
Copyright © 2004 Queen Travel Hanoi: 65 Hang Bac, District Hoan Kiem - Phone: (+84 ) 24.38260.860 - (+84) 24.38260.300 - Voyage Vietnam