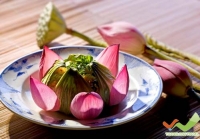 For visitors to Hue, vegetarian culinary discovery on the ancient streets of the capital city is an experience not to be missed. You will be hard to find somewhere that vegetarian diet rich and attractive again as here, from vegetarian rice, noodle vegetarian ... vegetarian chicken thighs until, fish meal ...
Perhaps few places in the country where the vegetarian dishes popular in Hue. On holidays like the full moon, a mosquito, Vesak ..., tourists have a chance to visit one of the hundreds of pagodas in Hue will enjoy deck prepared vegetarian temple on every side to invite Buddhist pilgrimage, worship .
She ran not only present in almost all the temples but also present in both families Hue.
Vegetarian dishes can be prepared for the feast worship, worship the full moon, the first month but sometimes simply a meager daily meal. They cook vegetarian dishes for family and invited friends to express affection and love good plate.
With many unique vegetarian dishes, the restaurant named Bodhi, Lotus, Pure Heart, An Lac, Binh Tinh ... in the south bank of the Perfume River on Pham Ngu Lao Street, The Palace, Ba Trieu, Nguyen Cong Tru ... that addresses many visitors come.
Here, diners can enjoy all the dishes marine paint predicate public nem, fried phoenix, silk rolls, chicken to lobster, fried fish ... but the interesting thing is that all are made from vegetables and fruit , beans, mushrooms, dried bamboo. Under the skilled hands of the people of Hue, crushed banana mixed honey with pomegranate seed squash, steamed banana leaf can become "pork bologna", sweet potatoes wrapped green beans fried crust can become "chops fried" ... Very ingenious as vegetarian dishes are similarities from color to flavor savory than that to eat slowly, chew long and can detect more ra.Dan field, you can look to the vegetarian restaurant along the north bank of the Perfume River and the imperial circle. Although not fussy, as shown in the drawing but the vegetarian restaurant here is still very tasty and exotic, prices are affordable with noodles, porridge, rice, noodles, tapioca pudding, banh nam ... The Familiar dishes dirt cake, filter cake, cake ... with private little vegetarian is also served at the Dong Ba market, Ben Ngu, An Cuu on full moon days, th a frugal diners want stomach. Only 5000-15000 dong / public interest but also taste delicious dishes that are also attractive, well fed but not bored.
If you take the time to go to the west of Hue, tourists will come to the neighborhood "temples". Along the streets from Phan Boi Chau, Dien Bien Phu to Thuy Xuan, vegetarian shops springing up closely. Although only small stalls but every shop here has sold dozens of different vegetarian dishes and served in a "buffet" that price is only 5000-7000 dong / mon.Khong only in the temples on the full moon, th one, where even on weekdays and at the restaurant bar in Hue, guests can enjoy vegetarian dishes. If given the opportunity to Hue, do not forget to visit the streets vegetarian to enjoy a culinary section very interesting and attractive of the Perfume River.

Copyright © 2004 Queen Travel Hanoi: 65 Hang Bac, District Hoan Kiem - Phone: (+84 ) 24.38260.860 - (+84) 24.38260.300 - Voyage Vietnam